Innovation Leaders Forum 2023: Activating the launchpad for Open Innovation for Vietnamese enterprises and startups
DNVN - Innovation Leaders Forum 2023 was held at the Vietnam National Innovation Center, joined by more than 200 C-level executives from local and global enterprises. It was hosted by Ministry of Planning and Investment, co-organized by NIC, BambuUP and Global PR Hub under the theme "Leading Enterprises and Corporations Spearheading Innovation."
Vivid and colourful Hanoi Autumn Carnival / Your summer lunchtime strolls may decrease your productivity
In the presentation "Innovation Landscape & Trends In Businesses," Ms. Do Ha - Partner, Leader of Infrastructure, Government and Healthcare Sector, Leader of ESG Solutions at KPMG Vietnam & Cambodia, believes that the current innovation situation of Vietnamese businesses revolves around issues of resources and expectations. Vietnamese businesses can also refer to current innovation management trends, such as focusing more on digital transformation, putting users at the center, decentralized innovation models and open innovation.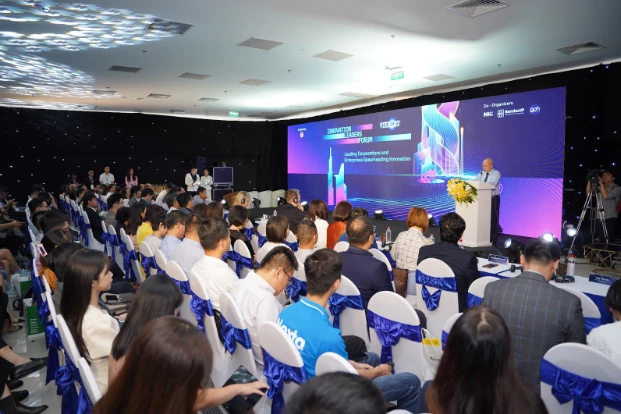 Innovation Leaders Forum 2023.
Experts from prominent corporations and businesses in Vietnam, such as Visa, Petrolimex, and Phuc Sinh Group, shared their success stories, difficulties, and challenges encountered in the innovation process. According to Mr. Dao Nam Hai - General Director of Petrolimex, technological innovation has improved business operation efficiency. At the same time, he shared eight main directions for digital transformation, green transformation, and strong technology applications in the coming time.
The discussion session "Open Innovation - The Untold Story" continued to deepen the process of applying and collaborating on open innovation at corporations and businesses with typical representatives such as Rang Dong, FPT Smart Cloud, Advantech Vietnam, VinCSS, and ADT Global Vietnam. Experts encourage corporations and startups to cooperate and choose innovative solutions that best suit their businesses. The most basic factors to implement open innovation include Vision and strategy, Knowledge and skills, Mechanism for collecting ideas, Nurturing innovative thinking and culture in businesses, and lastly, the steadfastness and determination to innovate of business leaders.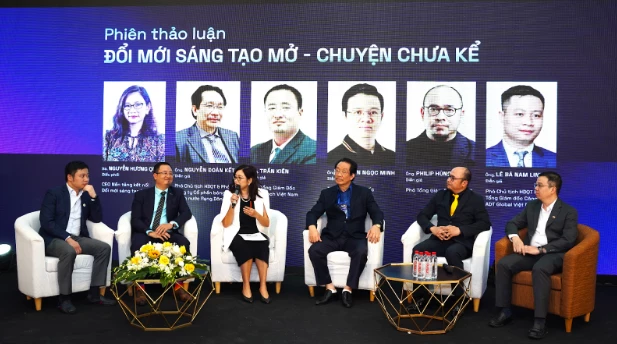 Panel discussion: "Open Innovation - The Untold Story".
At the forum, innovation challenges from businesses and corporations were presented, opening the door for startups to solve the problems with new, creative approaches. Heineken Vietnam, Viettel Group, Qualcomm, Nagakawa Group, Smollan Vietnam, Kowil Vietnam, and CMC Corporation are among the first to announce their challenges.
In addition, to realize breakthrough ideas in innovation, cooperation memorandums of understanding have been signed between NIC and Petrolimex; NIC, N&G Group Joint Stock Company and Hanoi Supporting Industry Business Association (Hansiba), Palexy Company Limited and Ho Chi Minh City Book Publishing Joint Stock Company (FAHASA), Saigon Hanoi Commercial Joint Stock Bank (SHB) and Smart Loyalty Technology Investment and Development JSC; FPT Telecom and Rogo Solutions JSC. Government agencies, businesses, and corporations officially joined hands to create a breakthrough open innovation model in Vietnam.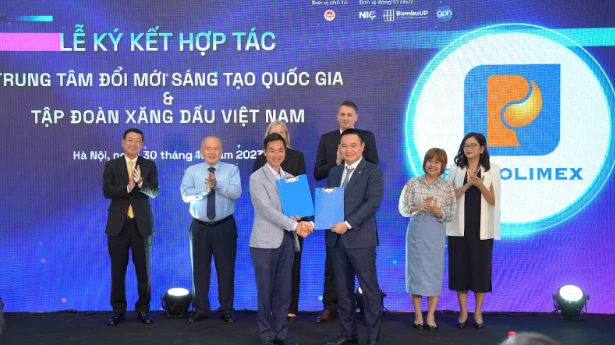 NIC and Petrolimex signed the MOU.
At the same time, the Forum introduced the publication of the Innovation Handbook for Enterprises, jointly produced by NIC and BambuUP, providing strategic directions and useful advice for businesses, corporations, and companies on effective innovation in startups, optimizing resources and active cooperation.
Nguyen Huong Quynh, CEO of BambuUP, said: "The success of the Innovation Leaders Forum is a testament to the power of Open Innovation. By connecting corporations and startups, we can create a launching pad for breakthrough solutions in the future. At the same time, when stakeholders in the innovation ecosystem are willing to share resources to move forward together, there will be more spectacular changes in many industries, professions and the socio-economic development in Vietnam."
The Innovation Leadership Forum is part of the Vietnam International Innovation Exhibition 2023 (VIIE 2023) at NIC Hoa Lac from October 28 to November 1. VIIE is hosted by the Ministry of Planning and Investment and organized by NIC in collaboration with reputable partners. It will bring extremely interesting experiences through exhibition activities, technology experiences, music festivals, specialized seminars, and opportunities to exchange and connect. Eight main areas include Smart Factory, Smart City, Digital Content, Cyber Security, Semiconductor Industry, Hydrogen Technology, Environmental Technology and Medical Technology.
Thuy Duong
End of content
Không có tin nào tiếp theo