Localities in Vietnam and China are looking to expand investment cooperation
DNVN - Nguyen Trung Thao, vice chairman of the northern province of Cao Bang, has suggested that companies from the locality and city of Baise in China's Guangxi Autonomous Region prioritise capital to potential sectors such as logistics, processing-manufacturing, and high technology.
By mid-February, Vietnam's trade value had reached 72 billion USD / Visa exemption means international tourists can visit Phu Quoc for up to 30 days
The official also called for promoting ties in agriculture, education, health, tourism, trade, and services, as well as supporting economic development in border areas, during a working session between the localities on April 2.
Li Yucheng, vice mayor of the Baise administration, stated that the city has the potential for border economic development and a close relationship with Cao Bang province, and that this is a prerequisite for the two sides to further develop their trade relations.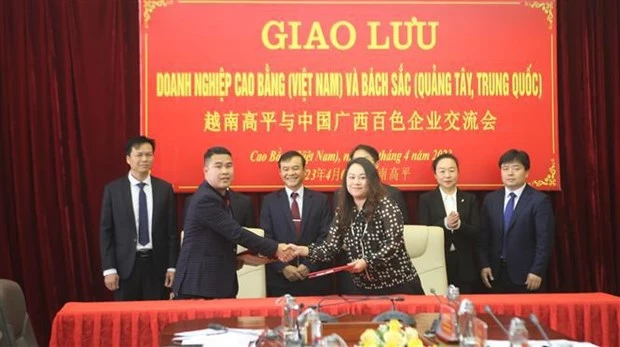 During the working session, businesses from Cao Bang province and the city of Baise in China's Guangxi Autonomous Region sign agreements. (Photo: VNA).
Cao Bang is regarded as an important investment gateway from China to Vietnam and the Association of Southeast Asian Nations (ASEAN), Li said. The official stated that Cao Bang province is expect to promote market expansion, and that the city of Baise will provide incentives to Cao Bang enterprises.
Representatives from the Cao Bang Economic Zone Management Board and the Baise Department of Commerce met on the occasion, exchanging ideas on how to boost trade and improve the business environment at the border gates. Cao Bang currently has six border crossing points with China.
Có thể bạn quan tâm
End of content
Không có tin nào tiếp theo