Prime Minister presides over conference on social housing development
DNVN - On August 1, Prime Minister Pham Minh Chinh presided over a conference to discuss expanding social housing facilities for workers and low-income earners.
Rise in numbers of firms, employees in FDI and non-state sectors / Vietnam values extensive partnership with Hungary
PM emphasized that the Party and State have developed various housing policies in an effort to provide better care for workers and those with low incomes.
Currently, 7,8 million square meters of social housing are being constructed, he noted, but emphasized that the number has not yet met the target and has only partially met people's needs. He mentioned the urgent need for more housing for workers and low-income earners.
The Government leader expressed his hope that through the conference, leaders of ministries, sectors, localities, and construction businesses will clarify shortcomings and difficulties encountered during the development of social housing, as well as identify causes and provide solutions.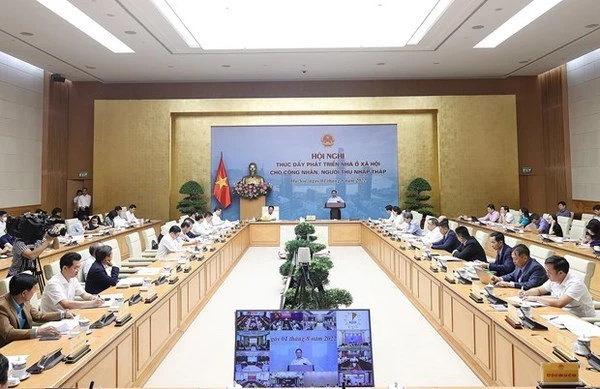 At the conference.
Nguyen Thanh Nghi, Minister of Construction, claims that a total of 155,800 apartments from 301 social housing projects in urban areas have been finished to date. In the meantime, 401 additional projects with approximately 454,360 apartments and a total area of approximately 22.71 million sq. m are in progress.
According to Nghi, social housing development faces a number of legal obstacles, including investment, selling-purchase procedures, price determination, and investor incentives.
The official emphasized that the development of affordable housing for workers is an important aspect of socioeconomic development, as it satisfies workers' housing needs.
Until 2025, the ministry intends to complete all projects that have been initiated and those for which investment procedures are being finalized, and to continue to implement new projects, he said, highlighting the objective to complete the construction of 1 million social apartments for workers in industrial parks.
End of content
Không có tin nào tiếp theo