Virtual reality games can be utilised in personnel evaluation
DNVN - Gamers who completed a virtual reality (VR) game more quickly than their peers also exhibited higher levels of general intelligence and processing power. A study conducted by the University of Cologne, the University of Liechtenstein, and Vorarlberg University of Applied Sciences yielded this result.
New Fortinet research reveals escalating cyber risks due to the ongoing talent shortage / Real or fake text? We can train ourselves to recognise the distinction
The results suggest that virtual reality games can be useful supplementary human resource management tools for predicting an applicant's performance on the job. The study "Intelligence at play: game-based assessment using a virtual-reality application" by Markus Weinmann of the University of Cologne and his fellow scientists was published in the journal Virtual Reality.
Video games may suggest or even aid in the development of intellectual and cognitive abilities, according to a number of studies. As one of the most common predictors of job performance is intelligence, video games may be useful for human resource management. Only a small number of studies have specifically examined whether and how VR games can be used to draw conclusions about intelligence in this area, despite the fact that many companies are increasingly using VR technology to recruit candidates. The study by Markus Weinmann and his associates helps to close the knowledge gap between theory and application.
Weinmann and his colleagues invited 103 individuals to their laboratory. They completed the BIS-4 short version intelligence test while playing the for-profit VR game "Job Simulator" under carefully monitored lab conditions.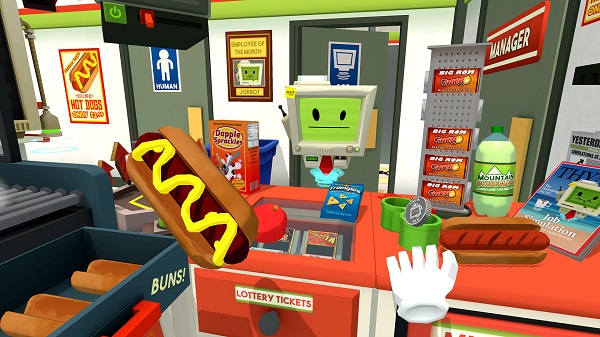 Job Simulator. Source: Steam.
According to the researchers' analyses, those who completed the game more quickly also exhibited higher levels of general intelligence and processing power. The amount of time spent playing the game decreased with a 17% increase in processing power. (by an average of 3.7 minutes). The findings imply that VR games can be valuable supplemental tools in businesses for anticipating employee performance.
The findings are a scientific novelty because studies using cutting-edge VR hardware have rarely been possible. Thus, there aren't many studies that have looked into the relationship between VR behaviour and intelligence. "Some businesses already use games, or so-called "serious games," for hiring. The updated findings support this particular application of VR games and demonstrate their potential for recruitment, according to Weinmann.
The potential of video games for real-world applications will continue to be studied by the scientists. They are looking into, among other things, how people interact with avatars in the metaverse.
Journal Reference: Alexander Simons, Isabell Wohlgenannt, Sarah Zelt, Markus Weinmann, Johannes Schneider, Jan vom Brocke. Intelligence at play: game-based assessment using a virtual-reality application. Virtual Reality, 2023; DOI: 10.1007/s10055-023-00752-9
Thuy Duong
Có thể bạn quan tâm
End of content
Không có tin nào tiếp theo