The UK government supports the development of regional financial and business centres in Vietnam
DNVN - The British Embassy in Hanoi announced on February 22 that the UK government has chosen TheCityUK to assist Vietnam in its efforts to establish a regional financial and business centre in Ho Chi Minh City.
Noi Bai airport anticipates 80,000 travellers on peak day in January / Hau Giang begins construction of a biomass power plant using rice husk as fuel
TheCityUK will offer technical assistance in collaboration with the UK Government to help Vietnam develop a business and regulatory environment that is appealing to international investors and to further advance bilateral ties between the UK and Vietnam.
In order to share best practises and develop recommendations that will support Vietnam's long-term sustainable growth and draw UK and foreign investors, TheCityUK will collaborate with the UK Government on this project to bring together regulators and businesses from across the industry in both the UK and Vietnam. The partnership between the two nations, which are commemorating 50 years of diplomatic relations, is highlighted by the collaboration.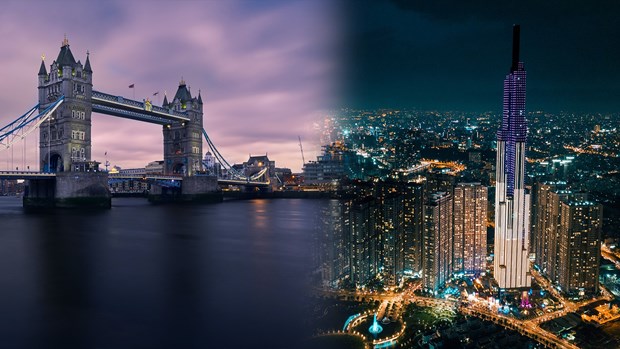 TheCityUK has been appointed to support Vietnam's goal of developing a regional financial and business centre in Ho Chi Minh City. ( Photo: British Embassy in Hanoi).
Vietnam is a very exciting country with a compelling narrative for growth and prosperity, according to Miles Celic, chief executive officer of TheCityUK. There is significant opportunity for British businesses and other foreign investors to enter the market given the nation's rapid development and rising demand for sophisticated financial products. Its success will depend on ensuring strong legal, policy, and regulatory frameworks as well as an open business environment.
"As one of the world's leading international financial centres, the UK is well placed to support Vietnam's ambitions and provide technical expertise. There will also be mutual benefits gained through the sharing expertise in key areas such as green finance, innovation and digital transformation and the net-zero transition," he said.
Iain Frew, the British ambassador to Vietnam, stated that another illustration of the close ties between the UK and Vietnam is the UK's support for the growth of Ho Chi Minh City as a regional financial and business hub.
We hope to align our shared policy priorities and support long-term sustainable growth throughout the nation by cooperating on this significant project and sharing UK expertise in a field where it has a pronounced global market advantage. Vietnam is a fast-growing, dynamic market.
The establishment of a regional financial and business hub in Ho Chi Minh City is a crucial component of the Vietnamese government's Economic and Social Development Strategy, according to Nguyen Hoang Long, ambassador of Vietnam to the UK.
"Vietnam has a dynamic economy, good global links and a clear vision on how to become a high-income country by 2045. This, coupled with support from the UK Government and its world-renowned financial and related professional services industry, makes us confident that Vietnam will be an attractive proposition to international investors," he said.
Có thể bạn quan tâm
End of content
Không có tin nào tiếp theo