Central bank is prepared to provide financing for economic growth and recovery
DNVN - Deputy Governor Dao Minh Tu stated on July 12 that the State Bank of Vietnam (SBV) has been working to regulate liquidity in order to stabilize the monetary market in light of global economic uncertainty and geopolitical tensions, as well as to control inflation and be prepared to provide capital for economic recovery and development.
Banks launch the eTax Mobile service / CPTPP boosts Vietnam's aquatic exports to Japan
Speaking at a quarterly meeting of the National Financial and Monetary Policy Advisory Council in Hanoi, the official reported that gross domestic product (GDP) climbed 6.42 percent year-over-year in the first half of this year and credited the economic rebound to the vaccination rollout.
He noted that, regardless of the fact that inflation was lower than predicted, it indicated a swiftly rising pattern and was expected to exceed 4 percent in the second half. The Deputy Governor asserts that the central bank has employed flexible monetary, fiscal, and other macroeconomic measures to help economic recovery. Nevertheless, the bank remained cautious against inflation concerns, thus helping to the maintenance of macroeconomic stability.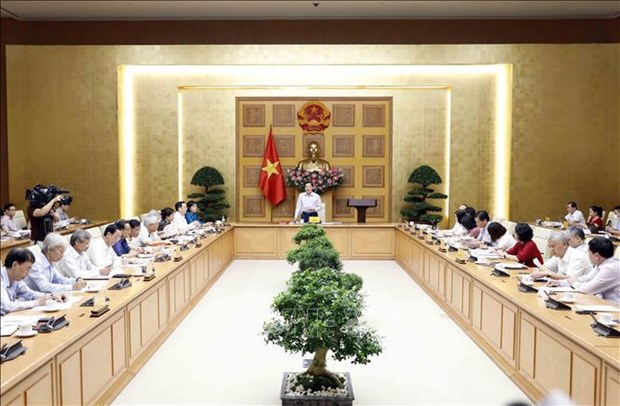 The quarterly meeting of the National Financial and Monetary Policy Advisory Council in Hanoi.
It has held interest rates steady in the face of rising worldwide rates, allowing credit institutions to acquire cash from the SBV at a low cost and stabilize their own rates, thereby assisting clients in restoring production and business. Tu provided statistics indicating that credit expanded by 9.35 percent compared to late 2021, and by 16.69 percent year-over-year, as a result of increased credit demand since the start of this year.
To assist people and clients affected by COVID-19, he stated that by the end of May 2022, the cumulative value of restructured loans was over 709 trillion VND (30,3 billion USD) with over 1,07 million consumers.
As of March 31, the central bank had granted 4.78 trillion VND to the Vietnam Bank for Social Policies, which provided loans to 1.2 million employees. Simultaneously, the SBV has accelerated cashless payments and digital transformation, and has urged credit institutions to enhance asset quality, regulate credit quality, and prevent bad debts. Consequently, the bad debt ratio in the domestic credit system was at a safe 1.55 percent at the end of May.
Có thể bạn quan tâm
End of content
Không có tin nào tiếp theo
Xem nhiều nhất