Can Tho, Laos, seeks to expand comprehensive cooperation
DNVN - At a meeting on August 24 in Can Tho, officials from the Champasak province in Laos and the Mekong Delta city of Can Tho discussed ways to improve bilateral comprehensive cooperation.
Protection of personal information should be brought to the attention of individuals / Party General Secretary Nguyen Phu Trong receives Lao official
According to Le Quang Manh, secretary of the Can Tho Party Committee, the city will promote the re-signing of a Memorandum of Understanding (MoU) on cooperation with Champasak in the fields of politics, human resource training, investment - economic development, friendship, and social security in the near future.
He added that Can Tho will establish connections with the Lao diplomatic missions in Vietnam to work together on planning friendship gatherings, forums, seminars, and cultural exchange events.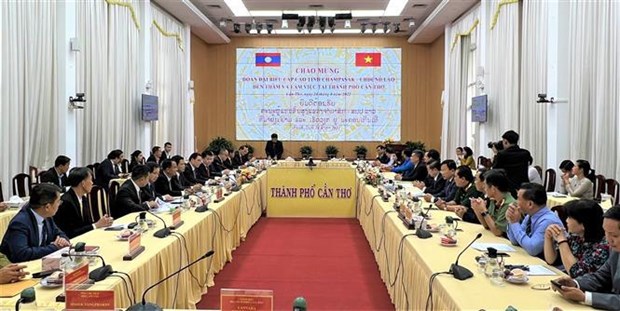 At the session.
The city will also increase investment and bond trading with partners in Laos, as well as set up all necessary frameworks for information sharing, market research, and business and investment cooperation between the two sides. Manh stated that Can Tho wants to increase the flow of educators, students, and students between the two nations.
He continued that the city works to hasten the opening of an air route connecting Can Tho and Vientiane in order to promote the Mekong Delta region to Lao friends and aid in the development of the tourism industry.
According to Vilayvong Bouddakham, Secretary of the provincial Party Committee and Governor of Champasak, cooperation between the two regions will focus on human resource development, economic growth, friendship, and social security in the years 2022 to 2026.
The two parties are dedicated to assisting and fostering favorable conditions for investors in the industries of agro-forestry product production and processing, resource exploitation, transportation, and tourism.
Có thể bạn quan tâm
End of content
Không có tin nào tiếp theo