Canada is willing to support Vietnamese small and medium enterprises to integrate CPTPP
(DNVN) - November 27, working with the leaders of Vietnam Association of Small and Medium Enterprises (VINASME), the Canadian Embassy delegation in Vietnam and the representative of CowaterSogema Company (Canada) affirmed: Willing to assist technical knowledge for Vietnamese small and medium enterprises to integrate CPTPP.
At the meeting, Mrs. Nguyen Thi Thanh Thuy - Senior Embassy Officer of the Canadian Embassy in Vietnam, said that the Canadian Embassy in Vietnam was honored to receive a delegation led by Mr. Don Stephenson - Senior advisor at CowaterSogema Company, meet and seek Vietnamese partners to implement EDM program.
EDM is a mobilizing mechanism for trade promotion and development assistance experts. EDM was built to contribute to poverty reduction through the mobilization of Canadian and international technical experts to help developing countries negotiate, implement, adapt and benefit from commercial activities and investment projects with Canada. EDM is currently in the launch phase and is expected to be operational from April 2019.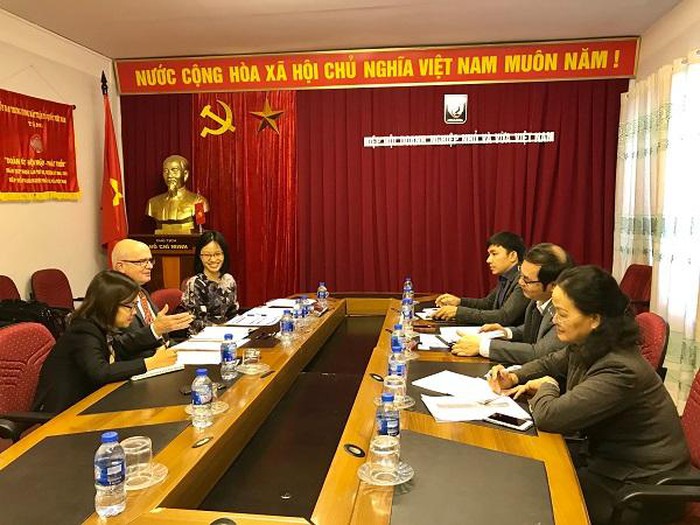 The meeting between the Canadian delegation and VINASME's leaders.
Mr. Don Stephenson – Former trade promotion and investment expert of Canadian government, shared: The EDM project that Canada wants to discuss with the association is one of the support policies made by the Canadian government to help Vietnamese government. Canada wants to coordinate and cooperate with Canada's partner countries that share common economic interests, and will provide technical assistance to these countries.
Canada's priority partner countries include countries in the Asia-Pacific region because Ottawa is prioritizing the implementation of the Comprehensive Partnership and Trans-Pacific Progress Agreement (CPTPP). Vietnam was selected by the Canadian government as a preferred country to conduct cooperation exchanges. Accordingly, Vietnam is the first country to be assessed by Canada for EDM project.
Sharing the reasons why Canada chooses Vietnam as a preferred country to conduct EDM project, Mr. Don said: "Vietnam is a good partner of Canada, a member of ASEAN, WTO, CPTPP and using ODA efficiently. Canada found that in the process of integrating CPTPP, Vietnam faces a number of challenges and Canada wants to support Vietnam to solve the difficulties".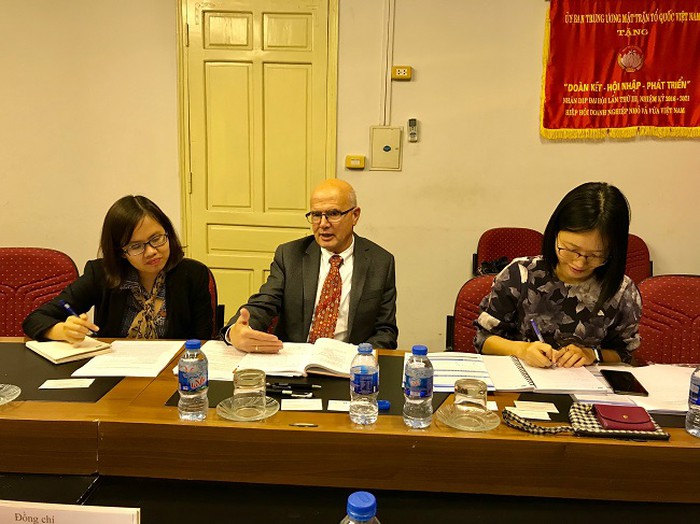 Mr. Don Stephenson - Senior Advisor at CowaterSogema Company (Canada) proposed the form of supporting Vietnamese SMEs.
"In terms of technical support, we can provide technical experts to support capacity building for SMEs, can organize some benchmarking in Canada. We can also organize seminars and conferences to share experiences, and training sessions related to "Trade promotion", Mr. Don proposed.
Canada identified a number of issues that Vietnam will need assistance in the implementation of the agreement, namely intellectual property rights, reform of the Labor Law, food safety issues, and training for government and enterprise staff. At the same time, training methods to make the best use of opportunities offered by CPTPP to Vietnam are also important.
On behalf of VINASME, Mr. To Hoai Nam - Standing Vice Chairman and General Secretary, expressed his pleasure to receive the proposal from Canada, thanks to that, the government of Canada has a program showing great attention to the Vietnamese SMEs community.
VINASME is the largest representative for Vietnamese enterprises with 62,000 enterprises registered as members of the association. However, the understanding of Vietnamese SMEs about CPTPP is very limited. Many regulations in the agreement are very strange to SMEs. Therefore, according to Mr. To Hoai Nam, Canada's technical support proposal at this time "as a cure for Vietnamese SMEs overcome difficulties to be able to integrate CPTPP".
Mr. Nam proposed the Canadian side to support Vietnamese SMEs in intellectual property; basic legal provisions relating to the CPTPP market; issues related to transparent governance in production, business and environmental protection activities; trade promotion activities; the relationship between employees and employers ... This is really a great challenge for Vietnam, and Vietnamese SMEs want to exploit the opportunities to overcome this difficulty.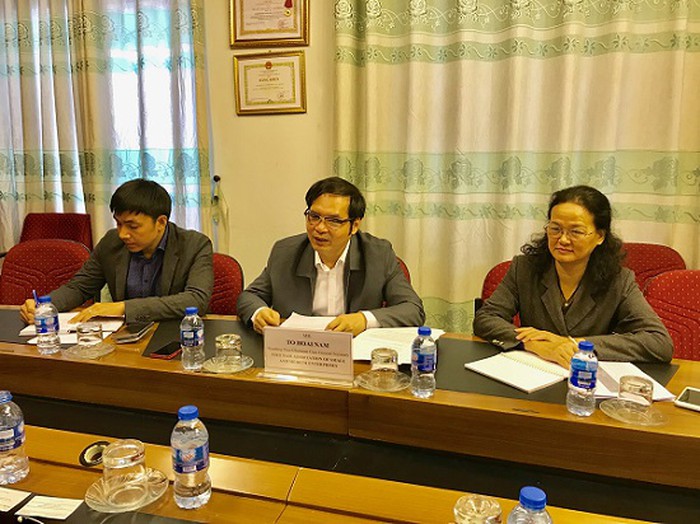 Mr. To Hoai Nam (middle) - Standing Vice Chairman and General Secretary of VINASME is happy with the support of the Canadian side.
"We hope that through the EDM project, the Canadian side can help SMEs fill those gaps. "In my opinion, it is possible to organize direct training courses for enterprises or training for VINASME's personnel. The association look for support on both forms of training", proposed Mr. Nam.
Regarding this proposal, the senior advisor at CowaterSogema suggested that the Canadian side will start training for the association's staff about the content of the CPTPP Agreement, such as the obligations that enterprises have and the requirements which must be met when joining, opportunities that businesses can take advantage of when implementing agreements. After that, these source officials will continue to train and spread knowledge to enterprises. This is a very good starting point to support Vietnamese SMEs.
After carefully studying the draft survey to assess the quality of enterprises joining CPTPP provided by VINASME as well as the list of priority sectors that the association wants to support, Canada will adjust the training materials to adapt under the conditions of Vietnam, at the same time will provide some support ideas and support methods to ensure Vietnamese SMEs can join CPTPP with confidence.
Nguyễn Hoàng Lân
Có thể bạn quan tâm
End of content
Không có tin nào tiếp theo