VINASME has agreed to sign a partnership with Google to support online business
(DNVN) - November 20, Vietnam Association of Small and Medium Enterprises (VINASME) has agreed to sign a cooperation agreement with Google on deploying Vietnam Digital 4.0 program to help small and medium enterprises (SMEs) succeed in online business.
November 20 in Hanoi, VINASME leaders had a meeting with representatives of Google and their partner on deploying Vietnam Digital 4.0 program.
At the beginning of the talk, Mr. To Hoai Nam - Standing Vice Chairman and General Secretary of VINASME, said that VINASME has 3 main characteristics, that is having an active membership network from central to district level, protecting free business activities is the highest mission, and in all areas related to the association, building legal policies and connecting members are the most successful things of the association.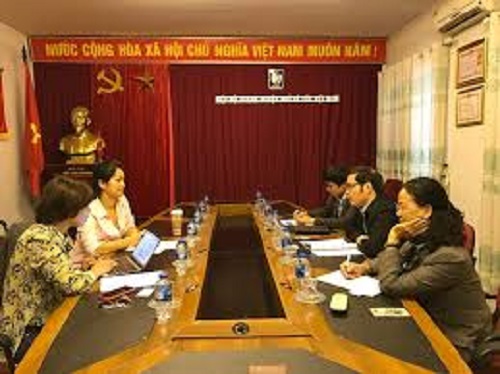 The meeting between VINASME and Google on 20 November, 2018.
Talking about Vietnam Digital 4.0 program, Mrs. Hana Tran - Business Director of RSVP Company, Director of Vietnam Digital 4.0 project, said that Google committed to implement this program in Vietnam with the desire to create opportunities for Vietnamese people to study and be more successful in business. This is a free training program for all SMEs in Vietnam.
With the mission to connect more than 3 million people in Southeast Asia to build a digital community, Vietnam Digital 4.0 program has created many activities. Many articles after the recent World Economic Forum, which emphasized the fact that Prime Minister Nguyen Xuan Phuc wants Google to pay more attention to preserving Vietnam's cultural identity and the commitment of Google to provide free training for 500,000 small and super small businesses in Vietnam until the end of 2020.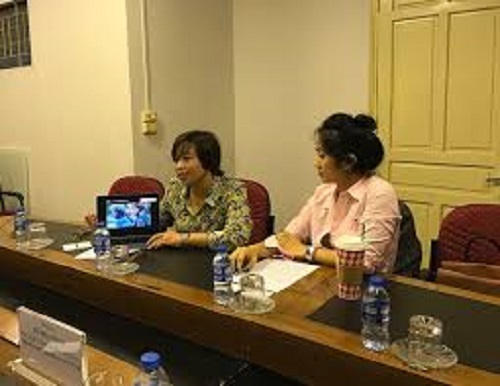 Mrs. Hana Tran (left) - Business Director of RSVP Company, Director of Vietnam Digital 4.0 project.
Google has coordinated with partners including VCCI and VWEC to implement the project since June 1, 2018 and it has been about 6 months until now. According to Google statistics as of yesterday (November 19), Google has trained 51,177 people.
The program has two main training skills, namely digital skills and soft skills. Digital skills include all digital-related skills, put business information online, and develop stronger businesses by reaching customers online. Soft skills are leadership skills, management skills and personal skills for women, business people and female employees.
Sharing about Google's subjects, Mrs. Do My Ninh - Vietnam National Marketing Director of Google, said that Google also targets future workers, who are the final year students of universities over the country. Accordingly, Google trains these students so they can become leaders in the future.
Participants of the program are also small and super small business owners, young people who intend to start a business, individual business owners, families and office workers who have additional business. Google is taking care of these people so they can achieve success in their business path.
Google's 2018 training content consists of 4 main modules. Module 1 builds a memorable brand, how to create basic and more popular websites, and train advanced skills on how to reach more customers, so that when people go online they will be able to find the store address easily. And finally, understand the market and customers through advanced databases and training classes.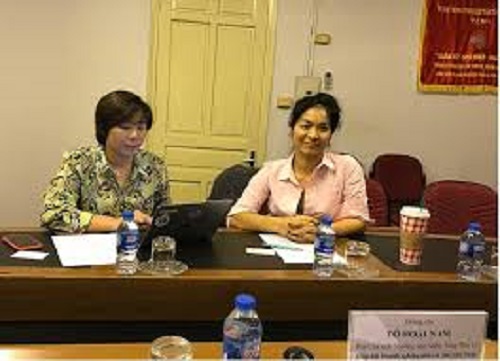 Mrs. Do My Ninh (right), Vietnam National Marketing Director of Google.
Soft skills for women include the Industrial revolution 4.0, challenges and opportunities, women and leadership skills.
Currently, Google has opened 3 training centers in Hanoi, Ho Chi Minh City and Da Nang. However, Hanoi has 2 division centers. By 2019 - 2020, Google will bring in a total of more than 20,000 new lessons and customers can learn all previous lessons online.
Google wishes to cooperate with VINASME in bringing the lessons to members of the association. Google makes this free training course in collaboration with Vietnamese partners with the desire to bring effective online methods to small businesses in the digital age.
According to Mrs. Ninh, the program has attracted more than 51,000 people in 3 major cities. From 2019-2020 Google wants to bring the program to other provinces.
This year, Google has conducted training classes in some provinces. For example, a class in Sapa was organized one month ago at the hall of Lao Cai Provincial People's Committee with 200 trainees. By the end of next year's first quarter, Google will have a few more training classes like that.
Mrs. Ninh said, in addition to this kind of training, Google can train a group of certain businesses. For example, Google recently trained 80 employees of VCCI in Hanoi and Ho Chi Minh city.
All classes will take about 90 minutes with 50% theory and 50% practical training. Trainees will have time to communicate with lecturers and they only need a smart phone with 3G to practice.
After the course, if the trainees face any difficulties they can contact the program's hotline or even go straight to the center and Google's trainer team will guide them to create products or online website.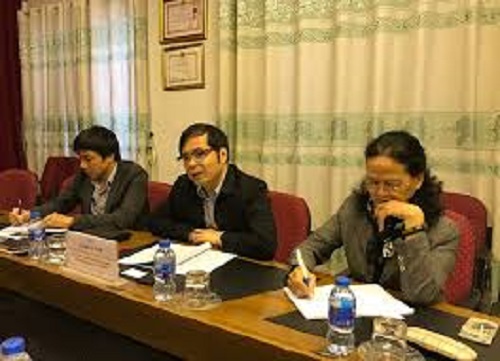 Mr. To Hoai Nam (middle) - Standing Vice Chairman and Secretary General of VINASME.
Mr. To Hoai Nam said, this project is very updated, smart, and practical, especially suitable for SMEs. On behalf of association leaders, Mr. Nam agreed to sign an agreement with Google as soon as possible.
According to Mr. Nam, the signing can be carried out in November or December and the deployment will start in early 2019.
With two types of Google's training, which are training for personnel of the association and training for member enterprises of the association. Mr. Nam expressed his desire to prioritize the latter one. VINASME will connect with their member units in provinces and Google will send their representatives to those places.
Google proposed VINASME to draft a memorandum for the two parties to sign and implement the program soon.
Nguyễn Hoàng Lân
Có thể bạn quan tâm
End of content
Không có tin nào tiếp theo