The Vietnam Women Entrepreneurs Development Project attracts much social attention
DNVN - February 17, 2020 at Pan Pacific Hanoi Hotel, Ministry of Planning and Investment (MPI) in association with UNESCAP and Canadian Embassy organized a Consultation Workshop on the Women Entrepreneurs Development project with the theme "Creating a Gender-Responsive Entrepreneurial Ecosystem ".
Vietnam's stock market 2020: A promising year ahead / Vietnam: Foreign capital is expected to flow into affordable housing market in 2020.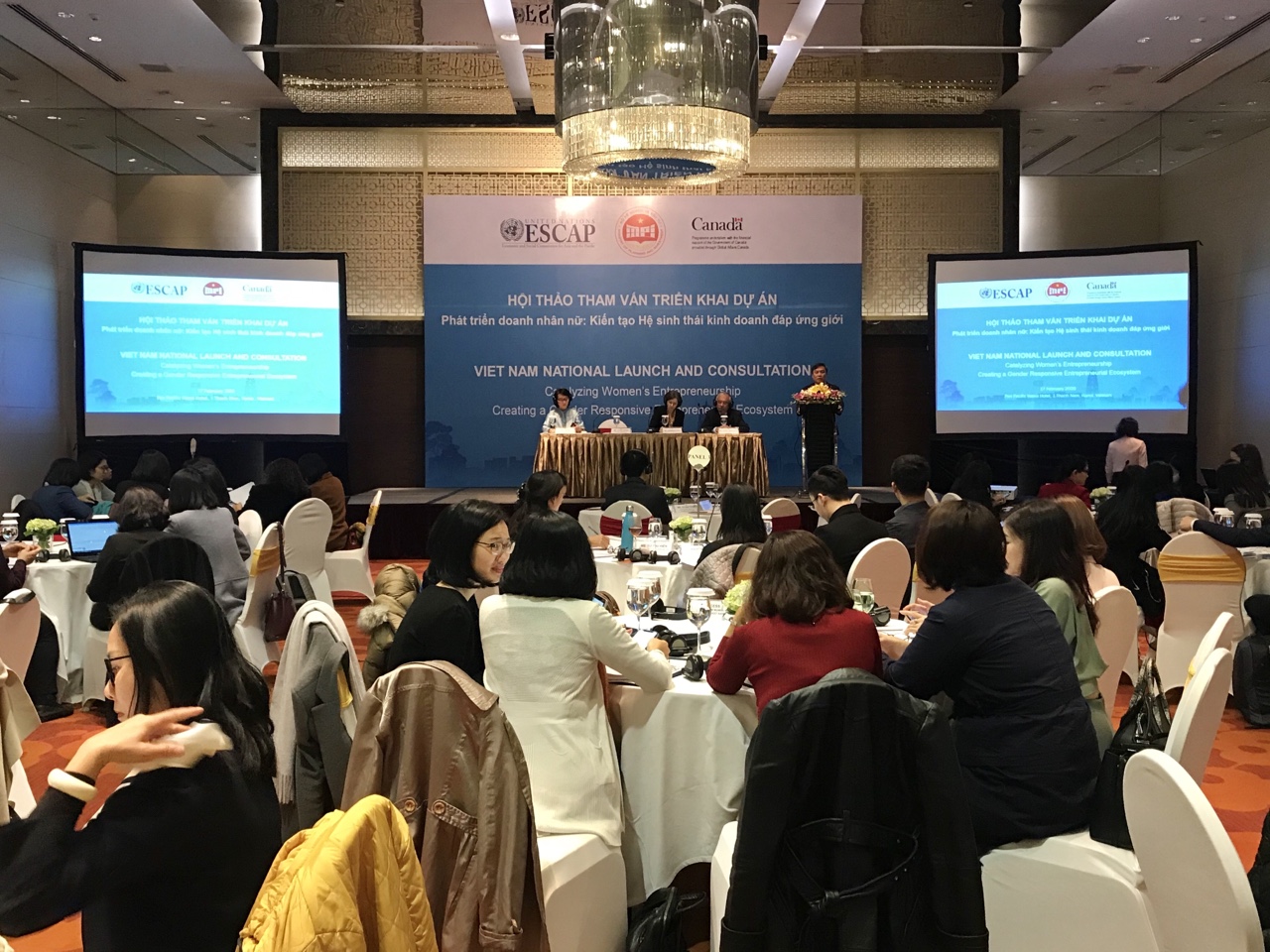 Deputy Minister Vu Dai Thang delivered the opening speech. Photo: Hoang Lan.
Attending and directing the workshop were Mr. Vu Dai Thang - Alternate member of the Party Central Committee, Deputy Minister of MPI, along with more than 80 guests from central ministries such as Ministry of Industry and Trade, Ministry of Information and Communications, Ministry of Financial; foreign organizations such as UNESCAP, Embassy of Canada, ADB Bank ..., business associations and businesswomen representing the North.
Opening the workshop, Deputy Minister Vu Dai Thang said that Vietnam is one of the countries with highest growth rate in the world in recent years, at 6.8-7% / year. Along with that is the boom in trade activities, specifically our country reached about 517 billion USD in 2019 with a trade surplus of 9.9 billion USD. This is the fourth consecutive year that Vietnam has experienced a trade surplus.
According to Deputy Minister Vu Dai Thang, Vietnam has achieved remarkable results thanks to the positive contribution of the private sector in general and small and medium enterprises in particular. Therefore, the Party, the State, the National Assembly and the Government are continuing to create all favorable mechanisms, policies and business investment environment for enterprises.
The Deputy Minister also highly appreciated the role of businesswomen in building, developing and defending the country, even though they were disadvantaged compared to men. In order to address these difficulties, the Law on Supporting Small and Medium-sized Enterprises (SME Support Law) mentions a variety of support content specifically for women-owned businesses or employing many female workers. However, until now it has not been really effective.
The Deputy Minister hoped that the Women Entrepreneur Development project in Vietnam would contribute to bringing the SMEs support law to life, especially to support women entrepreneurs in accessing loans, technology and training. In addition, the Deputy Minister also asked the parties to actively contribute ideas to MPI, so that they will summarize and propose solutions to the government in order ro strengthen business mechanisms and incentive policies for business community.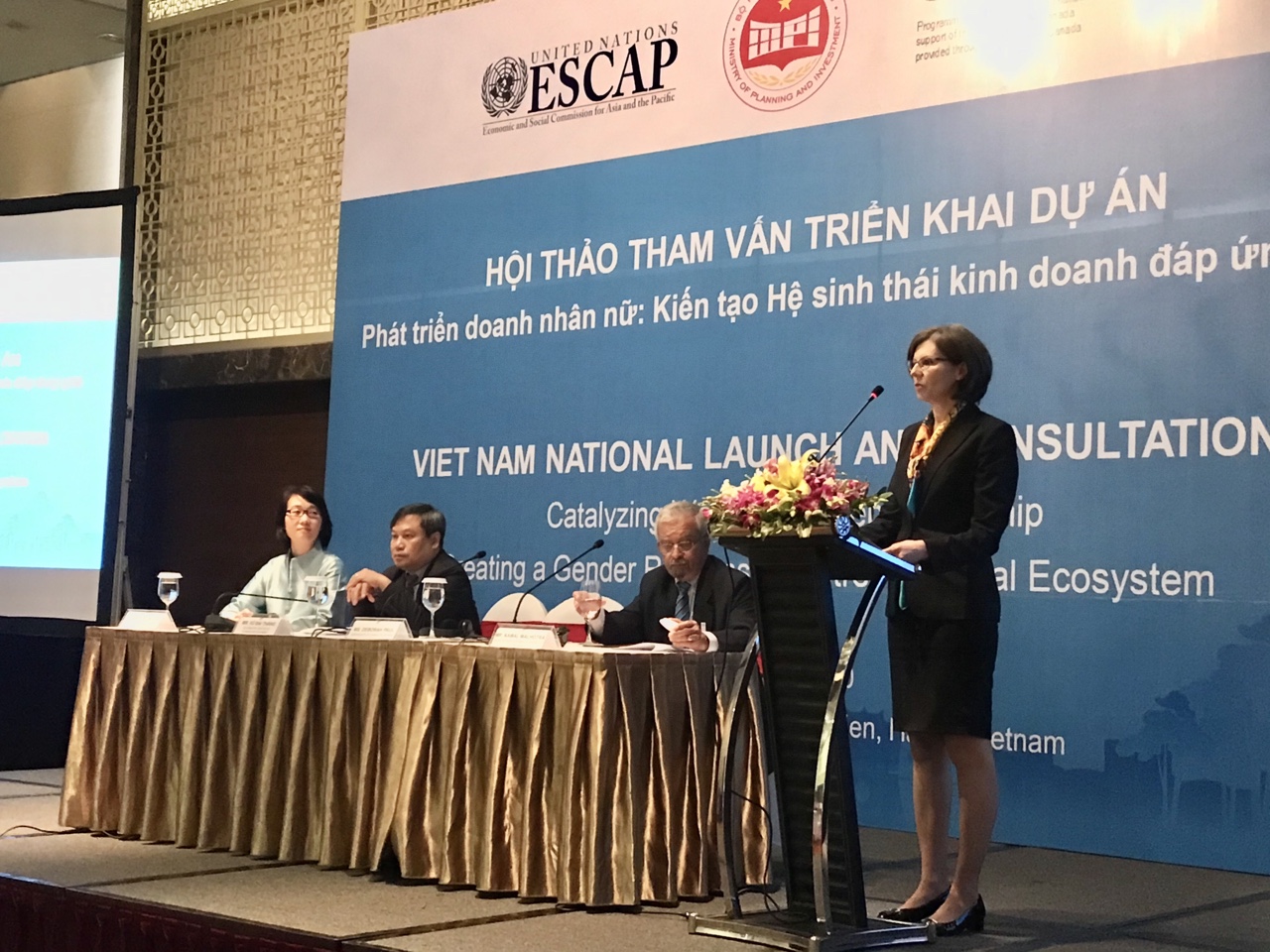 Mrs. Deborah Paul - Ambassador of Canada in Vietnam. Photo: Hoang Lan.
According to Mrs. Deborah Paul - Ambassador of Canada in Vietnam, the Women Entrepreneurs Development Project is a Canadian government funded program to address gender equality issues abroad. Currently, the project has been implemented in 6 countries, including Bangladesh, Cambodia, Fiji, Nepal, Samoa and Vietnam.
The project has 3 main components, including support to develop and finalize policies; improve access and use of financial services, support capital mobilization; and enhance the applicability of information technology and telecommunications (ICT). In Vietnam, the program is expected to last for 4 years (2020 - 2023).
According to Ms. Cai Cai - Head of UNESCAP's gender and social integration issues, MPI, UN representative in Viet Nam and UNESCAP have conducted a consultation meeting among ministries and sectors. This shows that the amount of work needed to meet the needs of women entrepreneurs is still very large. This will be a premise project for cooperation between the parties in the period 2022 - 2027.
Businesswomen help increase 26% of global GDP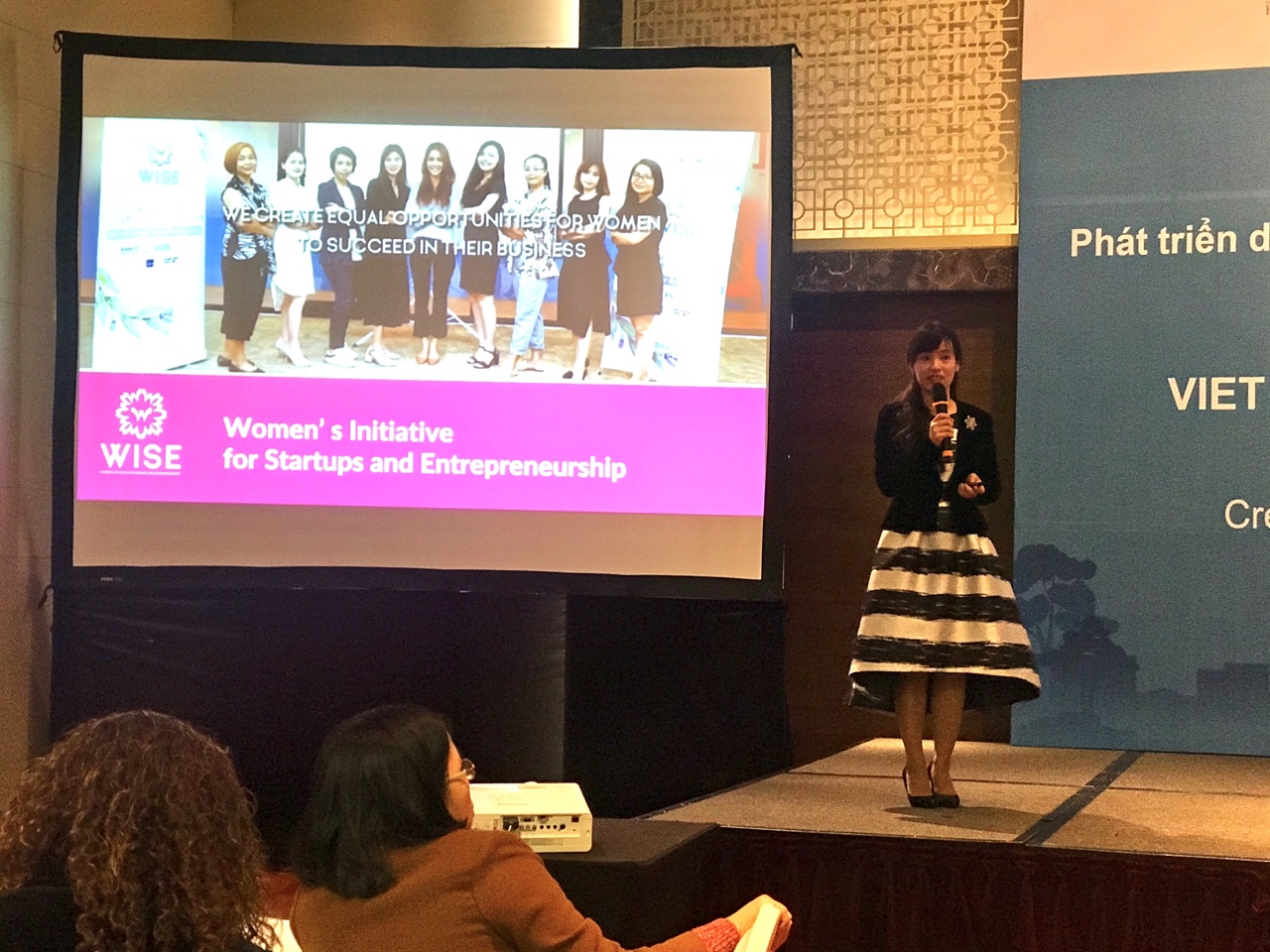 Mrs. Tu Thu Hien - Founder and Director of WISE shared about difficulties and potentials of business women. Photo: Hoang Lan.
At the opening remarks, Ms. Tu Thu Hien - Founder, Director of Social Joint Stock Company supporting women in entrepreneurship and business (WISE) said, if the potential of women worldwide is maximized, global GDP will increase by 26%. In addition, businesses that have woman on the board of directors will be 15% more efficient and create 13-16% more value than businesses with only men.
However, discrimination is still common. Specifically, only 3% of the companies which successfully called for investment have female CEOs, 85% of firms invested by venture fund have absolutely no women in the executive board, and the average amount of capital women can raise is only equal to 1/36 of the capital that men can call. In addition, the number of women who have access to bank loan is only 37%, while that of men is 47%.
The main reason is that Vietnamese women still face social prejudices, especially regarding family issues. A young woman will have to spend more time looking after family life, while men have more conditions to do business. Therefore, women often have less confidence in the eyes of financial institutions, partners or families.
The above issue also leads to limitations for women in accessing new knowledge, trends and technologies. To address these issues, WISE has built a platform that allows women to interact, make friends and listen to online business lectures from 5 to 7 minutes called Her Venture.
Need to understand carefully the needs of women entrepreneurs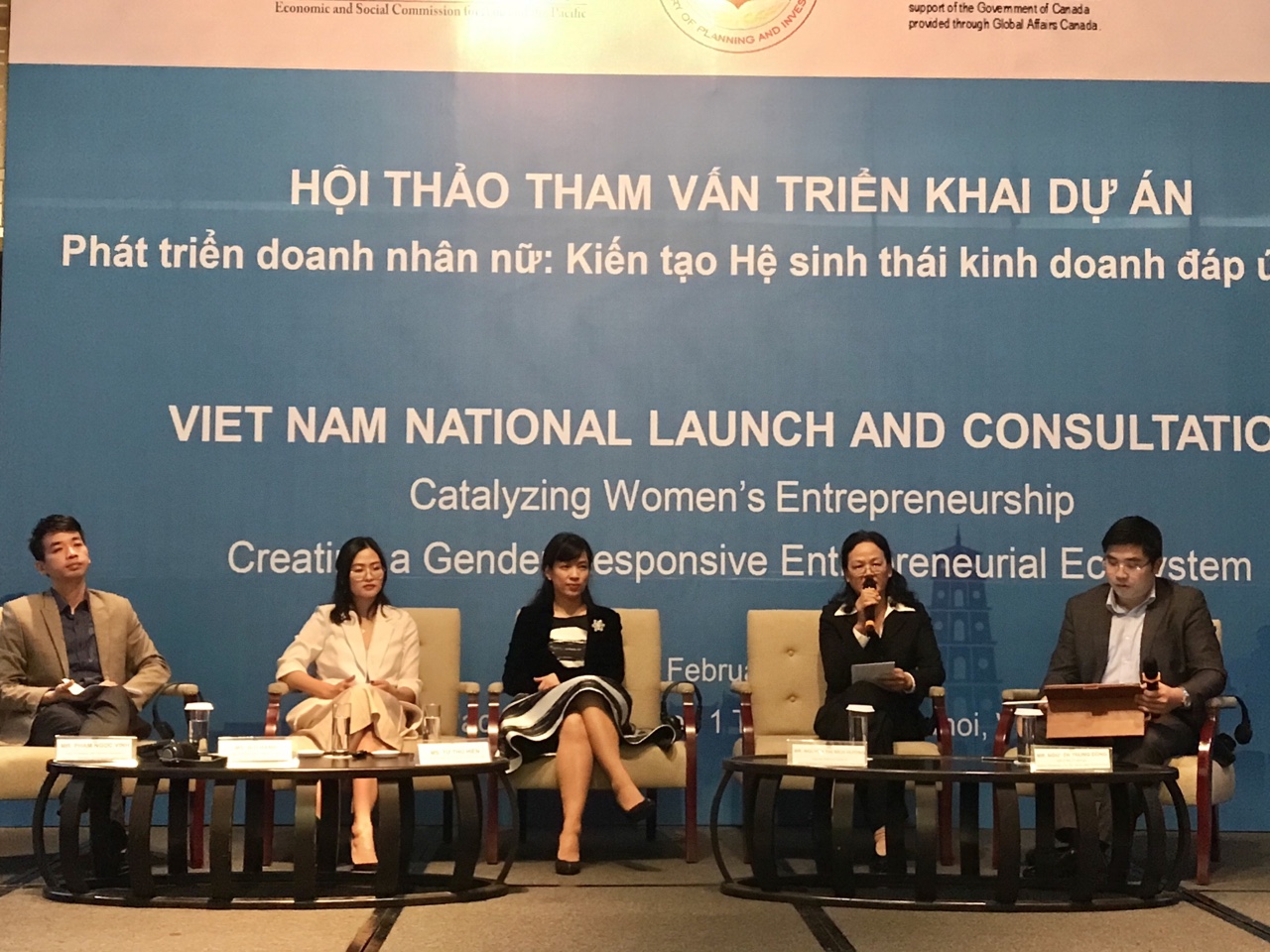 The speakers answered questions from businesswomen. Photo: Hoang Lan
Following Ms. Hien's speech were three discussion sessions that focused on inadequacies, solutions / initiatives to improve the environment, institutions, legal and cultural frameworks to promote women entrepreneurship; access to finance and leverage the power of IT.
Answering the questions of Hanoi Women Entrepreneurs Association about the SME Support Fund, representative of the Enterprise Development Agency - Ministry of Planning and Investment said that the fund does not currently have direct lending, instead it delegates to two commercial banks, which are Vietin Bank and BIDV. Therefore, women-owned businesses can access capital through these banks.
Representatives of the Vietnam Association of Small and Medium Enterprises (VINASME) also raised a number of solutions to support women-owned businesses, such as understanding carefully the needs of the beneficiaries; expanding the scope of beneficiaries to production sector instead of focusing on the trade and service sector only; encouraging women entrepreneurs to join business associations through digital platform to strengthen connectivity; promoting digitalization of all activities in society so that women can access services more quickly and conveniently ...
At the end of the workshop, the Enterprise Development Agency emphasized that promoting the entrepreneurship ecosystem, business investment for businesswomen in Vietnam is very important as it is paid special attention to by the Party, the State, the National Assembly and the Government. Therefore, the agency hopes that the parties will join hands to contribute ideas, build a deployment plan that brings the most practical results in the coming time.
Hoang Lan