Phu Tho province: Private sector contributes 60% of budget revenue
DNVN - In Phu Tho, there are 7,500 small and medium-sized enterprises (SMEs) and their role is extremely important. The SMEs accounts for 95% of the business community and contributes up to 60% of the provincial budget revenue.
Division 2 of Viet Tri Business Association deploys missions in 2020 / Ready for the 12th Cooperation - Connection and Business Development forum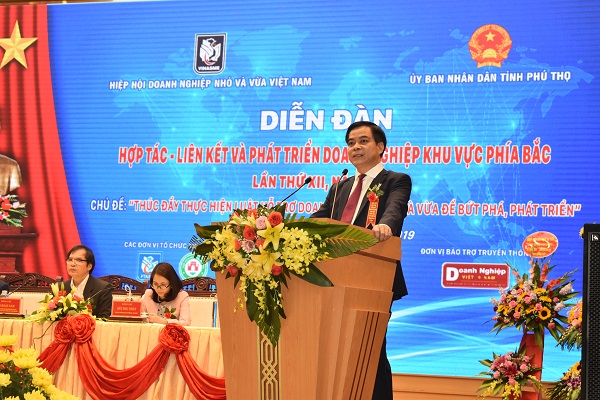 Mr. Nguyen Thanh Hai - Vice Chairman of Phu Tho Provincial People's Committee.
At the 12th "Cooperation - Connection and Enterprise Development" Forum on December 18, 2019, Mr. Nguyen Thanh Hai - Vice Chairman of Phu Tho Provincial People's Committee shared the development situation of business community in recent years. Accordingly, local business community has developed both in quality and quantity with over 7,900 enterprises, of which 95% is small and medium. They also contributed up to 60% of the provincial budget revenue and created thousands of jobs.
In 2019, Phu Tho province achieved economic growth of 7.8%; in which, industry increased by 11.4% and service increased by 7.1%. Export value is estimated at 1.95 billion USD, up 29% compared to 2018. The total budget revenue is estimated at over 7.1 trillion VND, up 6% compared to the estimate.Moreover, the People's Committee of Phu Tho province made a breakthrough in attracting investment as the time for business registration is shortened to 2 days; The time for evaluation and approval of an investment project is 17 days shorter. The province has issued investment registration certificates for 135 investment projects with a registered capital of 6 trillion VND, including 30 foreign investment projects. It is an exciting result of the province, and a good sign for the business community.
However, there are still many difficulties that reduce the pace of enterptises. financial and land access, corporate governance and human resources… In addition, there is a lack of uniformity between legal documents instructed by ministries and agencies. For example, the law on Investment or the law on Land are still in confict and lacking specific guidelines. Therefore, enterprises have not received preferential treatments under the SME Support law, especially the exemption or reduction of taxes and fees to transform a business household to an enterprise.
To improve the business environment, Phu Tho province has paid close attention on transportation, infrastructure, financial support and trade promotion for businesses. The local authorities has built a dynamic business environment to attract preferential policies and mechanisms to effectively support SMEs. They also focused on implementing access to credit through credit guarantee activities; overcoming cumbersome procedures and supporting loan applications; connecting businesses; promoting online business registration (accounting for 40% of the number of registrations); and supporting the conversion of business households into enterprises; Providing free accounting software, free corporate governance training and lower tax ...
Mr. Nguyen Thanh Hai also said that the business environment is improving significantly due to close direction of the State and the Government. According to some international organizations, Vietnam's business environment index in 2018 improved by 13 levels compared to 2016; logistics efficiency index increased by 25 and the global innovation index increased by 14 ... Following this trend, the competitiveness index of Phu Tho province in 2018 increased by 3 compared to 2017, standing at 24/63 provinces and cities throughout the country.
Nguồn: https://doanhnghiepvn.vn/kinh-te/phu-tho-doanh-nghiep-t...
Nguồn: https://doanhnghiepvn.vn/kinh-te/phu-tho-doanh-nghiep-tu-nhan-dong-gop-60-thu-ngan-sach-cua-tinh/20191218084959497
Hoang Lan