On December 18, Northern businesses will voice their need for practical support
DNVN - With the desire to practically support and develop the small and medium-sized business community (SMEs) in Northern areas, the Vietnam Association of Small and Medium Enterprises (VINASME) will organize the " Cooperation – Connection and Enterprise Development Forum" on Decemer 18, 2019 in Phu Tho Province.
9 outstanding events in 2018 of Vietnam Association of Small and Medium Enterprises / Closing ceremony of the 11th "Cooperation – Connection and Enterprise Development in the North" conference in 2018
Since 2007, VINASME has chaired and coordinated with 28 Northern Business Associations to successfully organize 11 Business Forums of Northern provinces to support businesses and increase connectivity.
Following this success, in 2019, VINASME continues to organize the 12th Regional Forum with the theme "Strengthening the implementation of the SME support Law to break through and develop". The host organizers are the Phu Tho Business Association and the Phu Tho Association of Small and Medium Enterprises.
According to the organizers, the forum is expected to welcome more than 300 delegates and guests of the Government Office, Ministry of Planning and Investment, Ministry of Industry and Trade, Central Economic Board, Central Committee for Public Affairs, Central Fatherland Front, VCCI, Northern provinces; business associations and typical enterprises.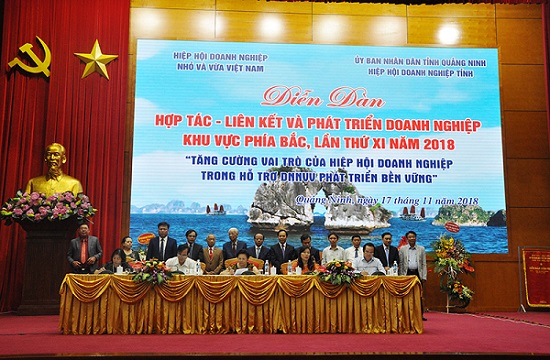 Leaders of local business associations signed an agreement at the 11th "Cooperation - Connection and Enterprises Development Forum".
Có thể bạn quan tâm
The event aims to enhance the leading role of government authorities in supporting SMEs for sustainable development. This includes removing barriers and difficulties to bring the SME Support Law into practical effect, solving problems of enterprises in production - business; improving conditions for enterprises to explore the domestic market; promoting potentials and advantages; connecting the supply and demand of goods between manufacturing and distribution enterprises, creating linkages between large economic groups and SMEs so that they can participate more in the value chains and contribute to the socio-economic development of the country.
At the event, VINASME leaders will talk about the assessment of domestic private economic development in 2011-2020 and suggest some solutions for future adjustments. In addition, the staff of VINASME will also give a presentation on improving the efficiency of SME support law, which includes the application of Technology, involvement of business associations, the application of the Anti-counterfeiting authentication process and a traceability system to improve the competitiveness of SMEs...
The inefficiency of SME support law will also be mentioned by the host of the forum, the representative of Hanoi SMEs association, the enterprises of Vinh Phuc Province and Bac Giang Province. Those participants will make a few suggestions related to the law.
Meanwhile, from the perspective of industries, Hung Yen Business Association will present a paper on "Anxiety of yarn, textile and garment enterprises". Lang Son SMEs association will emphasize the enhancement of local SME association in the development of SME community.
Nguồn: https://doanhnghiepvn.vn/doanh-nghiep/ngay-18-12-dn-phi...
Nguồn: https://doanhnghiepvn.vn/doanh-nghiep/ngay-18-12-dn-phia-bac-se-len-tieng-viec-can-duoc-ho-tro-thiet-thuc-de-phat-trien/20191215043644979
Hoang Lan