Race of Vietnam's medical masks to rescue the "thirst" of Europe
DNVN – Since March, many Vietnamese enterprises have been racing to produce export masks to Europe. Orders of millions of masks from Europe have created great opportunities for Vietnamese textile enterprises.
Virus Covid - 19 seriously affected production and business activities of enterprises / Prime Minister: We must have an effective solution to remove difficulties for businesses
The Covid-19 pandemic in Vietnam has been controlled, however, in countries around the world, the disease is still complicated, especially in Europe and the US. Therefore, the demand for medical masks, medicines and medical products in these countries is still high. Especially, the orders of medical masks and antibacterial masks from the US, Spain, Germany, Canada and Russia is very large.
Germany fought the Covid-19 pandemic better than most other European countries. As of April 23, according to NBC data, Germany had about 5,094 deaths from the disease, much lower than France and Italy.
Chancellor Angela Merkel on April 23 warned that the fight against the new strain of corona virus is still at an early stage and that the pandemic is likely to become a part of life for a long time. The German chancellor said all 16 states in Germany required people to wear masks when shopping in stores and taking public transportation, although some restrictions were reduced.
Vietnamese businesses are racing to produce masks for the European market
The fact that many European countries have implemented social distancing and faced a lack of masks. However, the crisis has created an opportunity for the Vietnam mask industry to have hundreds of orders in the short term.
For about one month now, many Vietnamese enterprises have been racing to produce export masks to Europe. This creats a great opportunity for Vietnamese textile enterprises, with orders of millions of masks signed quickly. Not only giants in the textile industry such as Vinatex, TNG or May 10 have exported masks to the US and Europe, but the opportunity also fell into the hands of new enterprises.
Viet Y Garment Joint Stock Company (with a factory in Hung Yen) has quickly launched a VYG mask product line right from the beginning of March. Specially treated weaving technology helps to keep the fabric soft and airy, strictly meeting the Directive No. 870 / QD - BYT on the technical requirements of the anti-pandemic masks. In particular, the requirement of"Respiratory assistance" of the mask in aeration mode of 30 liters / minute reaches 5mm water (H20), completely meeting the requirement of less than 9mm of water (H20) as prescribed by the Ministry of Health. Therefore, it helps users breathe normally.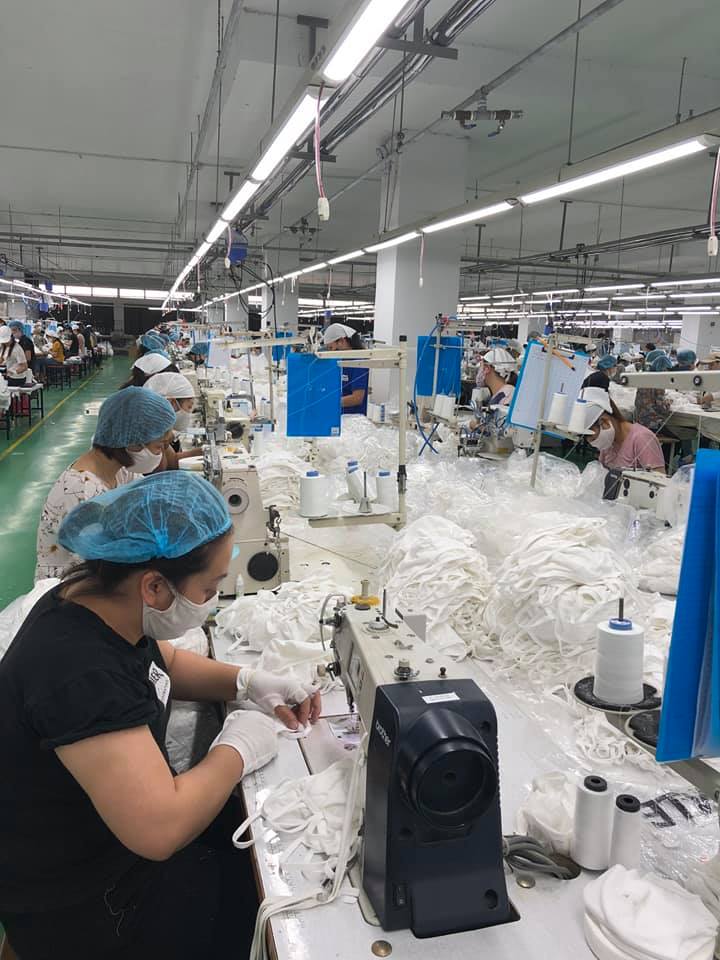 Viet Y Garment Joint Stock Company quickly changed to mask production after Vietnam entered the second phase of the anti-epidemic of Covid-19.
In addition, the VYG protection mask is designed to reduce the risk of inhalation of particles, harmful gases in the air. The mask consists of 3 layers: the outer layer is woven with silver nanotechnology of woven fabric, the inner 2 layers are knitted fabric, helping the product to have effect against splashes, dust, and bacterial. Especially, 100% of the fabric materials used for making masks are manufactured in Vietnam, so the company has been proactive in sourcing materials.
Recently, VYG has received orders for 6.5 million masks exported to Germany and a number of other partners are also negotiating. According to VYG's representative, VYG's production capacity is up to 500,000 pieces / day and ready to supply large orders of organizations and individuals in need.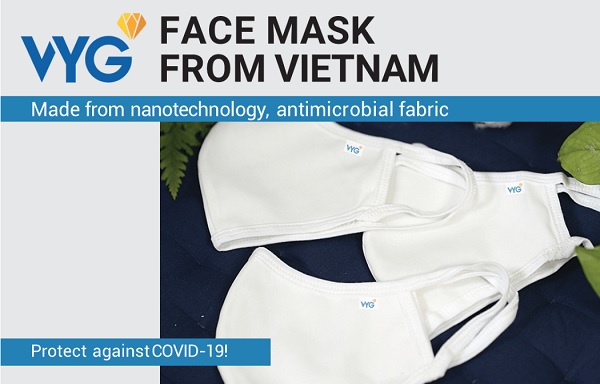 VYG face masks have arrived in Germany and Europe.
A new enterprise in the mask manufacturing industry, Thinh Dat International Joint Stock Company, also quickly launched the antibacterial medical masks from high-class to common types such as N99, N95, N85, N75, N65 to meet export demand from Europe and America. In addtion, A Long Joint Stock Company has just launched 3-layer, 4-layer regular masks of Dr.Health brand (codes KV400 and KV800) with reasonable prices compared to the current market. Right after the launching, many partners have come to A Long Company for cooperation.
"Although the domestic market has cooled down compared to the previous month, eveyone still needs to use common masks, so the demand will increase when the social distancing is relaxed. For foreign markets, especially in Europe, the demand for masks is still very high, so many partners have worked with us to order masks for Europe", a private source from A Long Company said.
Since early April, a team of Vietnamese experts in Germany has quickly implemented a campaign to support Germany and Europe to address the crisis of masks. As a result, the first masks of German standards - Made in Vietnam by APIS-Germanny Company in cooperation with Vietnamese manufacturers was present in Germany on 23/4.
Expert Le Ngoc Son, co-founder of APIS Germany, said: "Millions of APIS-Germany masks have come and are coming to Germany. On April 23, there were two large orders from a Germany's biggest bank, Sparkasse and the city of Erfurt. These products are designed in Germany, made in Vietnam and meet the EN 14683 standards, widely used in German and European medical facilities ".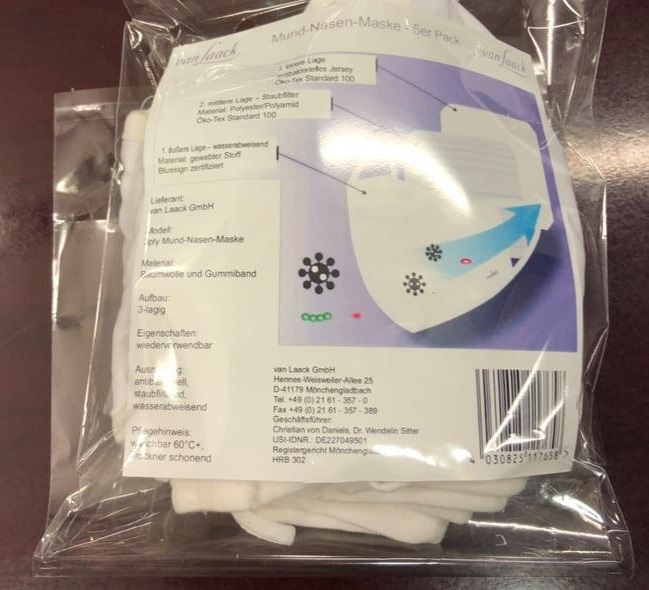 VYG masks are manufactured according to German orders.
War of Masks: Tricks to win a mask
A week ago, a source from VOV said that French and German officials have accused the US of paying much higher prices than the common ground to win contracts from China. France and Germany had to loosen even when the US "steal" their contracts.
"The use of money here is not appropriate. They are willing to pay anything because they are so in need of masks. Americans are using a lot of money to achieve their goals, "German Chancellor Angela Merkel criticized.
In Brazil, Health Minister Luiz Henrique Mandetta said China had stopped some of its orders after the US government sent 20 transport planes to China to buy the same products that Brazil had previously ordered. amount up to USD 228 million. Without the "extraordinary intervention," these shipments would have been shipped to Brazil within the next 30 days.
Another case also concerns Germany. A government's company which is responsible for ordering mask said things began to change in the last week of March when the US's "presence" became increasingly apparent in the market. According to the company, a completion of order does not mean the goods will be delivered, because the market demand is much greater than the supply.
In France, the same situation is happening. Grand Est Regional Council President Jean Rottner said: "competition of Masks is a constant situation and shipments can be moved at any time, even at the last minute. On the runway, Americans always pay cash, 3-4 times the price of ours ".
Có thể bạn quan tâm
End of content
Không có tin nào tiếp theo