Copyright and the Internet revolution: The game changes with new emerging business models
DNVN - Digitalization of content, broadband telecommunications and data storage are the three factors that lead to a huge impact of the technological revolution on the development of the digital content industry and the explosion of innovative products is the clearest answer.
"Heavy" Spending against epidemic, property of the No.1 richman in Vietnam suddenly increases shockingly / Covid-19: Grab's passenger service will be suspended for 15 days, while GrabExpress, GrabFood, GrabMart are maintained
The Digital Content Industry is being evaluated as a "new gold mine" that is setting up a new multi-billion-dollar industry in Vietnam. The Internet has become the dominant platform for providing digital content such as movies, music, books, news, and software. Vietnam Enterprise Magazine is now publishing a series of articles written by Nguyen Ngoc Han (CEO Thudo Multimedia) from the perspective of "copyright management and protection on the Internet". Throughout the articles, it will manifest the importance of copyright as an incentive mechanism for the establishment and dissemination of digital content.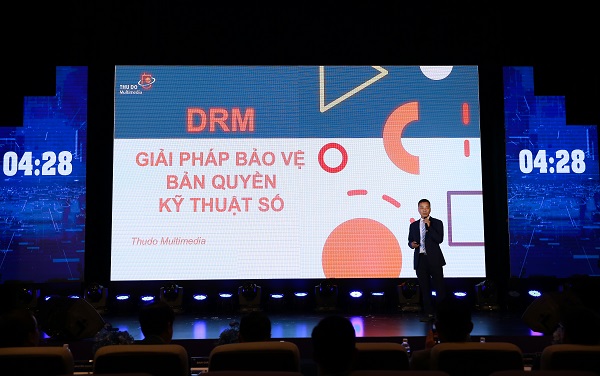 CEO of Thudo Multimedia, Nguyen Ngoc Han introduces the Sigma DRM solution at Vietsolution 2020.
The recent digital revolution, particularly the emergence of the Internet, has had a dramatic impact on almost every industry, including the copyright industry (Kretschmer, 2012; OECD, 2013).
Nowadays, sophisticated economies are shifting their emphasis away from tangible products and toward intangible assets. As a result, the significance of digital products grows as they provide new impetus to economies through the development of new technologies, innovation, and continuous infrastructure improvement (OECD, 2012a).
The three key components of the technological revolution that contribute to the development of digital content are: content digitalization; rapid growth of high-speed communication infrastructure and significantly reduced data storage costs.
Content digitization
One of the primary issues affecting the copyright sector is the digitalization of content. Since the introduction of new technical advancements, digital creative content has penetrated and transformed many current creative fields. Many copyright-intensive sectors (for example, soundtrack and film) have exploited digital content as a substitute for the tangible items they provide. Others provide completely new products (e.g. online computer games, entertainment and business software).
Because the intangible property of digital content is so essential, there are a number of economic features that distinguish digital content from tangible assets. Table 1 shows these distinctions.
Table 1: The differences between tangible goods and digital content products
Feature

Tangible Goods

Digital Content Products

- Marginal cost of production

- Hardware

- Digital delivery

- Market reach

Massive

Limit

Impossible

Geographical barriers

Slim to none

Dependent

Possible

Worldwide

Marginal Cost of Reproduction: The main manifestation of digital content's non-physical form is the almost negligible cost of reproduction. That is, once developed, digital content may be replicated with minimal effort and expense. Furthermore, in most cases, a digital copy of content is as good as the original. In the case of physical products containing some creative content (e.g., books or optical discs), the marginal cost-related duplication is always present and sufficiently large (e.g., materials used for production, packaging, shipping, and so on), and the appearance may be quite different in quality from the original.
Hardware dependency: Hardware is a required support for all digital content (e.g. storage on hard drives, optical discs, servers, or other devices), and the potential utility that digital content offers to the end user is not possible without the appropriate hardware. As a result, there is a strong link and complementarity between hardware and digital products.
Digital delivery: An intangible feature of a digital product that can be delivered online, such as via the Internet or a local area network. Because it reduces the cost of searching, shipping, and storing digital products, digital distribution clearly lowers the cost of purchasing digital products...
Market scope: The widespread expansion of global computer networks has enabled digital products to be delivered instantly to any location on the planet. This means that the market for digital products has a global reach, while also creating opportunities and overcoming the physical goods' limited barriers (e.g. expensive transportation, taxes, etc.).
High speed communication infrastructure
Mobile and high-speed fixed networks are the infrastructure core of the digital economy, enabling the increased transfer and consumption of digitized creative content and bandwidth due to significantly improved access speeds.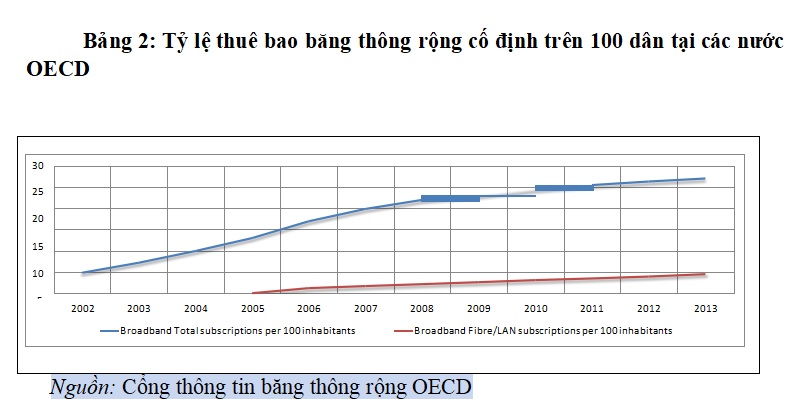 Table 2. OECD fixed broadband subscriptions per 100 inhabitants
(Source: OECD Broadband Portal)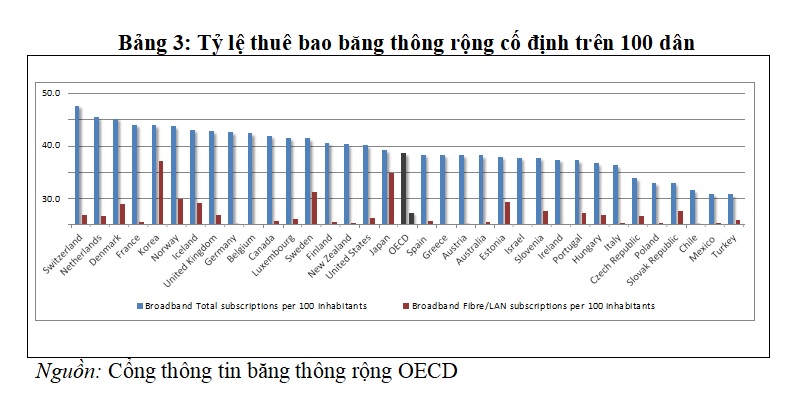 Table 3. OECD fixed broadband subscriptions per 100 inhabitants - by country
(Source: OECD Broadband Portal)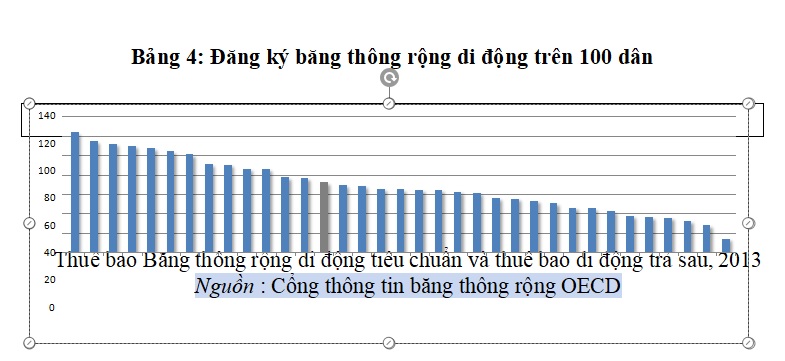 Table 4. OECD mobile broadband subscription per 100 inhabitants in 2013
(Source: OECD Broadband Portal)
In 2013, the OECD area's mobile broadband subscription rate reached 72 percent of the population. Mobile broadband subscriptions are increasing by double digits, and the number of mobile subscriptions is expected to increase further in the coming years. In terms of data traffic, Cisco (2012) estimates that mobile phone generation will reach nearly 11 exabytes (billions of gigabytes) by 2016, which is almost doubling every year. Recent statistics also show that mobile penetration exceeds 100% in most countries, so this source of consumption of creative content will increase significantly on the prevailing personal devices.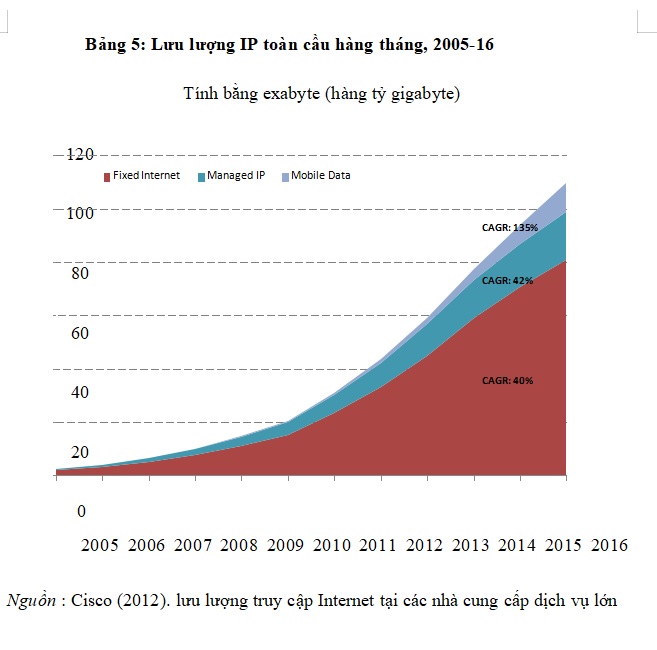 Table 5. Global IP data traffic (2005-2016) (Source: Cisco, 2012)
Data storage and the role of copyright management
Despite the fact that the technological advancements mentioned above have primarily driven the delivery and consumption of content. The actual use of digital creative content, on the other hand, is greatly aided by the declining cost of storing digital data, including hosting copyrighted digital content. Previously, the cost of hosting did not usually include the cost of storing the content indefinitely; however, storage costs are now so low that content can be stored for an extended period of time, if not indefinitely, without having to be calculated.
The cost of storing digital content has dropped from $56 in 1998 to $0.05 in 2012, a drop of nearly 40% per year on average. With next-generation storage technologies such as solid-state drives (SSDs), the cost-per-gigabyte continues to fall. This means that when using digitally creative content, consumers do not need to consider storage issues.
With the above three Internet elements, it has resulted in a massive impact of the technological revolution on the development of the digital content industry, most notably the explosion of creative products.
The impact of technological changes on content growth can be seen in several statistics, which report on the recent explosion in creative content across images, songs, and online videos. And this clearly demonstrates the difference in the amount of professional and amateur content in today's circumstances.
Flickr, a photo-sharing site, averages 1.6 million photos uploaded daily for online images (mostly amateur photos). Other networks are also seeing a significant increase in photo content. Facebook announced in September 2013 that its users had uploaded a total of 250 billion images. Instagram, for example, recently announced that it has surpassed 20 billion photos uploaded and has an average of 60 million uploads per day.
In terms of commercial online music, the iTunes Store, which is available in 119 countries, has over 26 million song options. Spotify, another streaming service, provides commercial music streaming with over 20 million tracks licensed globally and adds more than 20,000 songs every day on average.
YouTube is a good example of mostly amateurish video content. YouTube reported in mid-2014 that users watch over 6 billion hours of video per month on their platform, with over 100 hours of video uploaded every minute. Movie and television content has also thrived, thanks to a plethora of download and streaming services. For example, Netflix, a company that celebrated its one billionth DVD distribution milestone on February 25, 2007, reportedly delivered over 10,000 movies and TV shows in the US market. Netflix does not need to go through a cinema system in order to provide content to over 70 million users in 130 countries (including Vietnam). The EU Office for Internet Market Research has identified 3,695 VOD services in Europe.
These examples demonstrate the impact of technological advancement on the increase in content volume. If we disregard quality, we must admit that such a large volume can only be generated on the Internet or online environment, and it is impossible in the offline business environment.
The impact of the technology can be seen in the amount of content, but these examples can also be recognized with platforms of good copyright management (iTunes Store, Netflix) which are having good growth in revenue as well as in service quality. Other services (YouTube, Flickr) have experienced rapid growth in the amount of content available, even exploding thousands of times, but piracy is common, even painful.
Indeed, the growth of YouTube and lax copyright management have led to the decline of many services in many countries around the world, including Vietnam. TV shows, movies, and music are all available.
The new emerging business models
The ongoing evolution of technological infrastructure, software, and hardware solutions has greatly improved market access and influenced the business innovation process. As technology evolves, improves, and expands, an increasing number of services emerge with new business models or incorporate traditional business models. Today's major innovations in new business models all demonstrate that: relying on the Internet to shape new methods of content delivery; Take advantage of content mobility as a result of the increasing popularity of mobile devices such as smartphones and tablets. Changes in revenue generation models from offline to online, such as advertising or subscription revenue generating models.
Internet-based model to form a new way of delivery
We are all aware that the Internet is a quick and convenient medium for the delivery (transportation) of content in almost all areas of the copyright industry, including works visual and sound (e.g., TV and film), music, publishing, professional photography, and video games via computers, mobile phones, tablets, and other devices.
The first copyright industry to face the transition from physical to digital was sound recording. In 2012, there were 2.3 billion downloads (an increase of 8% from 2011) and 210 million digital album sales (an increase of 16% from 2011). (IFPI, 2013). Another example is the iTunes store, which was launched in the United States in 2003 and is now available in over 150 countries.
Digital technologies have been used in the book publishing industry for a long time, but the industry only developed with the introduction of mobile devices and Internet-connected reading devices.
Another area where the Internet (via its download feature) has profoundly shaped the current business model and created unavoidable opportunities for piracy is artwork. Online services, primarily websites and other platforms such as newsgroups (Newsgroups), are widely used today to disseminate works of art.
Furthermore, the Internet is said to host databases of artistic images in an online environment. Images are sometimes distributed for free (e.g., via Google Images) or for a fee via photo stock companies (NMR, Roger Viollet, Corbis, Magnum, etc.) and microstocks (Getty Images, Fotolia, etc.). However, if metadata and other important information are discovered, the above-mentioned copyrighted data or information can be easily removed from the works. This is an issue that has a significant impact on the protection and proof of the work's copyright.
Another industry segment where the Internet serves as an efficient medium for content delivery is the video game industry. For many years, due to the development of broadband Internet and the increasingly powerful configuration of the generation of game consoles, online games (online games) have been the fastest growing segment of this field. According to a 2013 study, 72 percent of gamers in the United States played online games, a 5% increase from 2012. (NPD Group, 2013).
Recently, as 3D printing technology advances, many 3D designs for medical applications have become increasingly expensive, and the benefits of this printing industry to society have diminished. The organization is also growing in size. For example, 3D printing allows for the easy creation of very thin and precise ear bones for each individual for surgery and replacement, allowing patients to miraculously recover their function quickly. These designs are gaining market access as a result of their distribution on the Internet. Simultaneously, in the current digital age, 3D graphic design is becoming an industry vulnerable to copyright infringement.
Mobility improvement
Another area where technological advancements have an impact on business models in copyrighted industries is improved mobility. Mobile devices (laptops, smartphones, and tablets) that provide users with greater access to creative content via an Internet connection (stream or download). According to a Let's Go Connected report, the average European now has 2.6 screens, up from 1.4 three years ago. Digital content is either played online on a cache or temporarily downloaded for offline (offline) listening thanks to this feature. Purchased digital content downloaded on mobile devices can frequently be transferred to other devices.
New source of revenue
The copyright industry has experimented with various revenue programs to profit from digital consumption over the last decade. Models range from a "paywall," in which content is only accessible after full payment, to models in which all content is freely available and revenue is generated through other means, such as advertising.
A subscription-based service in the music industry is an example of an online paywall. Customers can access their entire catalog through these services for a monthly fee. Many subscription services are also bundled with Internet or mobile phone service. Other subscription services provide packages of selected songs or music albums by the week, day, or interest for a lower subscription fee.
Subscriptions are the fastest growing segment of the digital video and music industries. There were approximately 2,500 pre-existing video-on-demand services in 2013 (Let's Go Connected, 2013). In the EU, there were at least 530 music subscription services in 2013. (Enders, 2013). The rapid growth of subscription-based services has been mainly driven by association with Internet service providers (ISPs) and mobile operators.
Aside from subscription-based services, another model is the traffic-based model, in which copyrighted industries charge a fee for access to specific content or services while allowing visitors a random number of hits. Customers do not have to pay a fixed monthly fee under this strategy, which creates opportunities for advertising revenue to grow. For example, the Financial Times website, FT. com, collects a monthly subscription as well as a mode for users to read up to 10 articles per month with ad display. However, most content operators and copyright holders want to convert users to subscription fees in order to provide a premium version without displaying advertisements.
Lê Thăng(dịch)
Có thể bạn quan tâm
End of content
Không có tin nào tiếp theo