VINASME and OECD discuss about policies to support Vietnamese SMEs
DNVN – May 8, in Hanoi, the working group of the Organization for Economic Cooperation and Development (OECD) discussed with leaders of Vietnam Association of Small and Medium Enterprises (VINASME) about the main challenges that Vietnamese SMEs are facing as well as the government's policy to support this business group.
Vietnam's small and medium enterprises delegation will go to Colombia to explore the market / The 3rd Conference of the Central Executive Committee of VINASME, term III of 2016 – 2021
OECD is conducting a study on policies for SMEs in Vietnam. An important part of this study is the one-week working visit of the OECD delegation, in which the OECD Secretariat meets private and governmental organizations to discuss the key challenges, which Vietnamese SMEs are facing as well as government policies in supporting SMEs.
In the joint project between Canada and OECD on ASEAN small and medium enterprises (COPAS), OECD is expected to work in Vietnam from 06-10 May, 2019 to assess and research about SMEs and entrepreneurs of Vietnam.
In a meeting with the OECD delegation this morning, on behalf of VINASME leaders, Mr. To Hoai Nam - Standing Vice Chairman and General Secretary of VINASME said: VINASME is the largest national and professional social representative for enterprises in Vietnam, with 62,000 enterprises registered as members of the association. Since its founding 13 years ago, VINASME has always adhered to the task of collecting and reflecting opinions of enterprises to ministries, departments and the government; Protecting legal rights of member companies; Consulting on implementing policies and laws, promoting trade in joint ventures; Supporting loans, training human resources; Implementing projects to support sustainable development.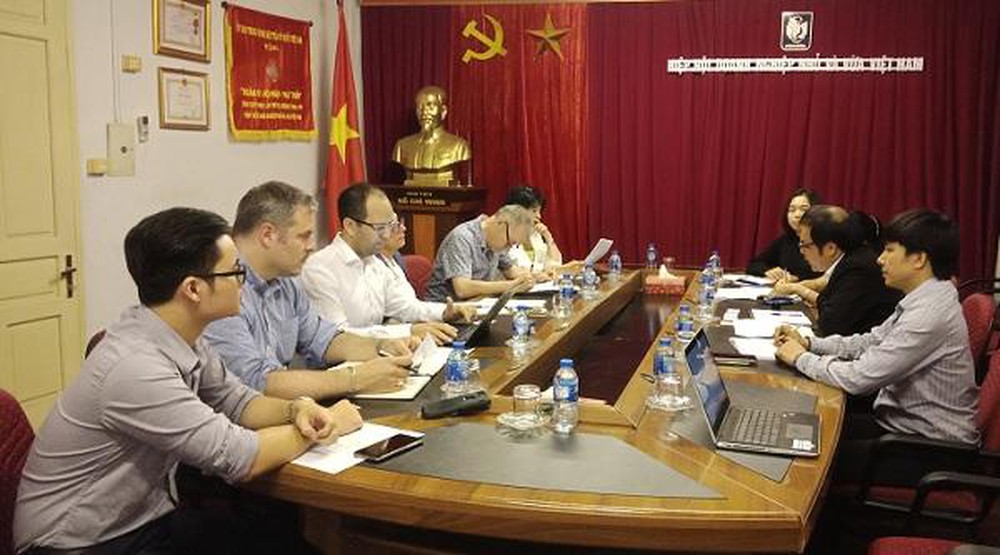 The meeting between VINASME and OECD.
Mr. Nam said training support is the most difficult activity at VINASME because financial resources from government are very limited. Vietnamese SMEs desire free training courses, and look forward to VINASME's help. Therefore, the association must mobilize additional resources from projects, international organizations and other sources of revenue to organize training courses.
"The demand for training is between 15,000 and 20,000 people per year. In 2018, VINASME has trained more than 5,000 – a very small number compared to the target due to financial difficulties. In other words, financial difficulties have caused a lack of 80% of training needs of VINASME", said VINASME's Standing Vice Chairman.
According to Mr. Nam, VINASME has just succeeded in some part of training such as on corporate governance, and legal policies like Labor and Tax Law... Otherwise, VINASME has not met the needs of trainees about affiliate organization, chain of links, logistics, and credit.
Talking about SMEs support law which has just been promulgated by the National Assembly on June 12, 2017 and takes effect from January 1, 2018, Mr. Nam affirmed that this law shows a strong effort of the government and the National Assembly of Vietnam to support SMEs. However, Vietnamese SMEs have not received much from it.
"There is too much evidence that the preferential policies in the law have not been put into implementation yet. Enterprises have not been supported in regard to the most important issues related to land, credit, logistics and participation in public investment...", stressed Mr. Nam.
For example, the law encourages enterprises to participate in global value chains, but the policy only stops at orientation, and does not mention specific solutions for easy participation. It is time consuming for enterprises to link themselves with each other on the principle of supply and demand, thus large enterprises will overwhelm them.
Another difficulty, according to Mr. Nam is credit. SMEs can barely access preferential credit packages as always. Land policy also makes it difficult for SMEs, in fact that the administrative procedures for leasing 200 square meters or 200 hectares are the same and must pass at least 20 different papers.
Evaluating the efficiency of policies for enterprises, VINASME representative said that the success only shows clearly in 2 areas: online tax filing, and easy enterprise registration as administrative procedures have been greatly reduced.
With the desire to cooperate more with Vietnamese SMEs, Mr. Nam asked OECD and VINASME to participate in a project to survey enterprises, thereby helping them understand what Vietnamese SMEs lack and need to support in time. At the same time, solving difficult problems of this business community such as capital, market, land, global supply chain.... is very much needed. VINASME will be determined to be a bridge to help SMEs develop sustainably in the future and contribute more to the country's economy.
Nguyễn Hoàng Lân
Có thể bạn quan tâm
End of content
Không có tin nào tiếp theo