VINASME and the Australian Ministry of Foreign Affairs and Trade discussed the opportunity to boost up the SME community
DNVN – Hanoi, on February 27, 2020, the Ministry of Foreign Affairs and Trade (MFAT) of Australia had a discussion with the Vietnam Association of Small and Medium Enterprises (VINASME) about a cooperation opportunity to support Vietnamese SMEs.
USAID supports Vietnamese small and medium-sized enterprises to increase export capacity / Italy wants to share experiences of small and medium enterprises management with Vietnam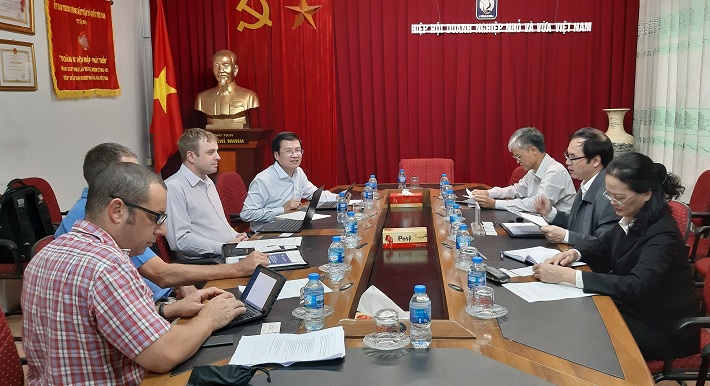 MFAT and VINASME are looking for a more practical cooperation in the coming time. Photo: Minh Nguyet.
Mr. Chad Clark - Policy Officer - Private Sector Partnership - MFAT - said that the Embassy of Australia's Development Assistance Program in Vietnam is now preparing to open to the next stage. Therefore,Australia is now planning to explore opportunities to attract more Vietnamese private sectors to take part in the Australian aid investment in Vietnam.
Australia and Vietnam have joined a public-private partnership program, which provides grants up to 500,000 AUD to promote the relationship between the two countries. Subsequently, MFAT has implemented this activity with a number of partners such as Master Card, Policy Bank or Asia Foundation... At the moment, Australian authorities are studying whether the current mechanism of the program is appropriate with Vietnam and how to make it best.
According to Mr. To Hoai Nam - Standing Vice President cum General Secretary of VINASME, one of the outstanding achievements of VINASME in the recent time was to assist the government in writing the law on supporting SMEs. However, after more than 2 years of implementing this law, the SME community has not been entitled to many supportive policies, making it difficult for businesses to meet their production and business demand.
Answering the question about the obstacle of small businesses in developing into medium enterprises, Mr. To Hoai Nam shared: the problem is not to ensure the principle of fairness in almost all business aspects inlcluding investment, public procurement and access to the country's resources ... Therefore, it is necessary to prioritize small businesses, otherwise they will get smaller day by day.What they need most is training programs in management skills, marketing, production, and foreign languages.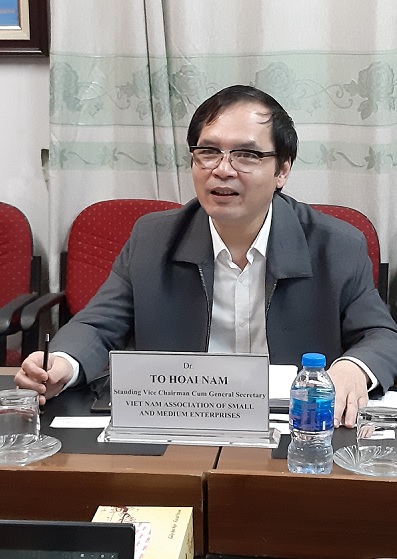 The Standing Vice Chairman of VINASME pointed out some crucial challenges of SMEs.
"One of the biggest desires of VINASME is that the Vietnamese SME community can deeply participate in the global supply chain. Currently, only 4.4% - 4.5% of our small businesses have joined the global value chain - This means that we are far away from the success point. In fact that these enterprises have found it more difficult to access markets, trade partners and customers. To improve their capacity, the first thing to do is to train them in market access ", Mr. To Hoai Nam proposed.
Mr. Nam expressed his hope that the MFAT will introduce some reputable import companies to guide Vietnamese enterprises in connecting with the world. This will then create a potential cooperation between the parties.
In order to fully survey the participation of private sectors in the Australian aid investments, Mr. Nam proposed that the survey should point out the real difficulties of small businesses and propose the design of policies to help reduce them.
On behalf of the Australian delegation, Mr. Chad Clark thanked VINASME's leaders for taking time to receive the delegation and give specific consultations. He also hoped to receive practical suggestion and cooperation from VINASME in the coming time.
End of content
Không có tin nào tiếp theo